Hey look! I finally uploaded something :o
It has been a while since that has (properly) happened. Im not gonna spend much time talking about the latest release. All you need to know has already been told in the description of the track, which means that you should definitely check it out (at least if you want to read the description)
Oh, and here is an image of the messy project file: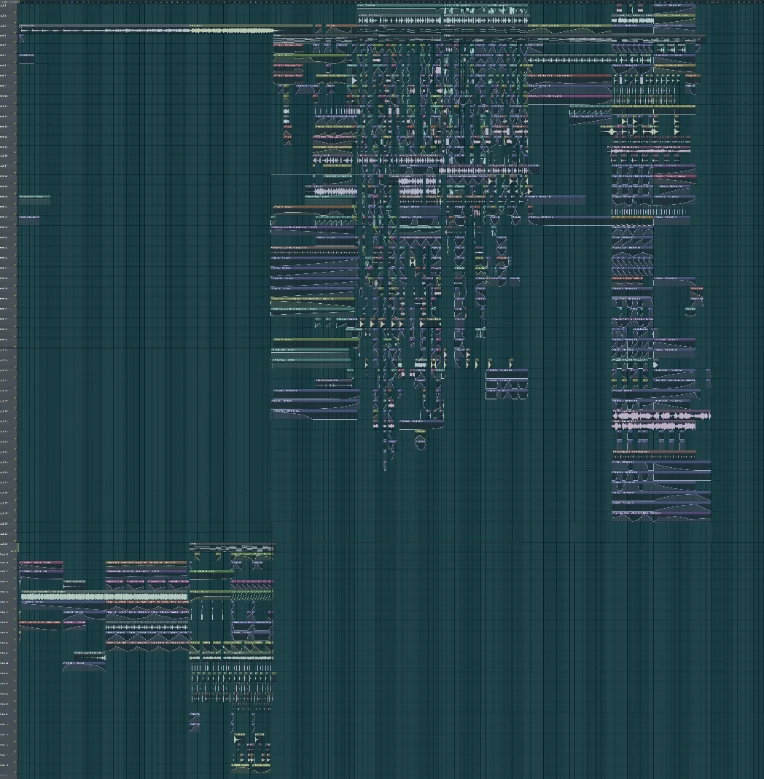 Now about the future: I have managed to find more time to work on music again, however since university and actual expenses are waiting for me (not to mention an actual job), it wont be like that forever. In other words i need to start managing my time, compromising wherever i need to and that also includes music production.
Now that can mean 2 things:
A) The quality and detail of my projects will briefly decline, in favour of more sincere and frequent uploads
B) You start hearing a lot less from me. Not as bad as last 12 months has been, but not too far from it either.
Which option i'll utilize is still up for a debate, but one will certanly go into action.
Also a small update from the WIP department.
Here is a vague list of all the projects to come and their progress:
Purple-Rocket remix - 14% (arranging)
"No is Static" - 20% (arranging)
"Deterioration" - 30% (arranging)
experimental "Kirby and the Forgotten land remake" - 84% (mastering, fine-tuning, polishing)
"Stagnation" - 19% (on hold)
"A place in this" - 20% (on hold)
"Subliminal" - 57% (arranging, polishing)
Now you may say that it ruins the surprise, but im releasing this info to pressure myself to finish these, because now you too know whats up. And you still dont really know what they are about exactly, so you are not exactly spoiled.
I am probably forgetting something. If i remember what it is, I'll update the post
Until then I wish you a great day :)